Once again, my family has come down with a cold! I swear whenever one child starts school someone in the house is always sick. In our case, everyone usually gets sick. I woke up with a horrible headache and a sore tight throat and chest. Being the basic millennial chick I am, I remembered my favorite bloggers raving about Starbucks' Medicine Bomb.
The sweet husband went to get me one! When he asked the barista about the Medicine Bomb, they recommended their updated version, the Citrus Defender. It's basically the same thing with a couple of different ingredients. It's packed with vitamin C to boost that immune system during cold and flu season. Exaxtly what I needed!
The Citrus Defender ingredients are Teavana Defense White Tea, steamed lemonade, and honey.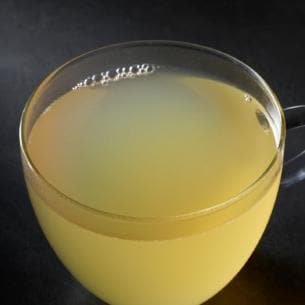 An Infusion Of [Water, Candied Pineapple Pieces (Pineapple, Sugar, Citric Acid), White Tea, Orange Peels, White Hibiscus Petals, Cinnamon, Natural Flavor, Ginger, Rose Hip Peels, Apple Pieces, Carob Pieces, Lemongrass, Chicory Root, Blackberry Leaves, Cardamom, Basil, Lemon Peels, Ascorbic Acid (Vitamin C), Puffed Amaranth Grain, Cloves, Black Pepper, Citric Acid], Lemonade [Water, Lemon Juice, Sugar, Lemon Oil], Honey.
How did it taste? Um, it was DELICIOUS! It was so good and very soothing on my throat. Wether or not it actually gave my immune system a boost, it was a tasty treat that made me happy.
I'm trying to be a responsible adult so I have cut back a ton on Starbucks consumption, (and happy to report that I lost a couple pounds)! So my goal is to make this drink at home and with less sugar. The ingredients are pretty simple!
Homemade Citrus Defense
Teavana Defense Wellness Tea
Lemon juice
Honey
Imma be real with you, the Defense Wellness tea is expensive! It's $36.99 for 2 ounces… I plan on making it with the Peach Tranquility tea since it is way cheaper! It is also what is used in the original Medicine Bomb, which I also want to make!
You can just as easily, (and probably much more cheaply), make the Medicine Bomb.
Homemade Medicine Bomb
Peach Tea
Green Tea
Lemon Juice
Honey
Spearmint Leaves
I found a few teas on Amazon that you can use in place of the Defense tea to save some money! I hope you found this post helpful and that you start feeling better soon!