Dressing up in matching mommy and me outfits is something we moms LOVE! Kids love their mom, a lot. They want to do everything we do and get so excited to "be like mommy." It's really cute so matching mom is really exciting for them as well. We get to dress ourselves and our little ones up in coordinated outfits and it makes it easier for us to keep track of each other.
Mommy and me outfits don't have to match 100%, some color coordination looks amazing, especially for professional family pictures. However, sometimes it can be difficult to know what colors go best together so I like to stick with a whole outfit match.
It used to be difficult to find cute mommy and me outfits online but now most brands are launching new clothing lines to make it easy to dress everyone in matching family outfits!
If you are looking for where to buy mommy and me outfits, this post has the best mommy and me matching retailers there are!
I'm a huge fan of dresses and love that my daughter loves dresses too! My favorite matching mommy and me dress we've worn is from Ivy City Co. They are a little pricy but they are stunning and the quality is amazing! The brand is founded by 3 mothers and all of their designs are original. Ivy City Co. carries the prettiest mom and daughter dresses and they are pretty size inclusive! Moms' sizes run from XXSmall-3X.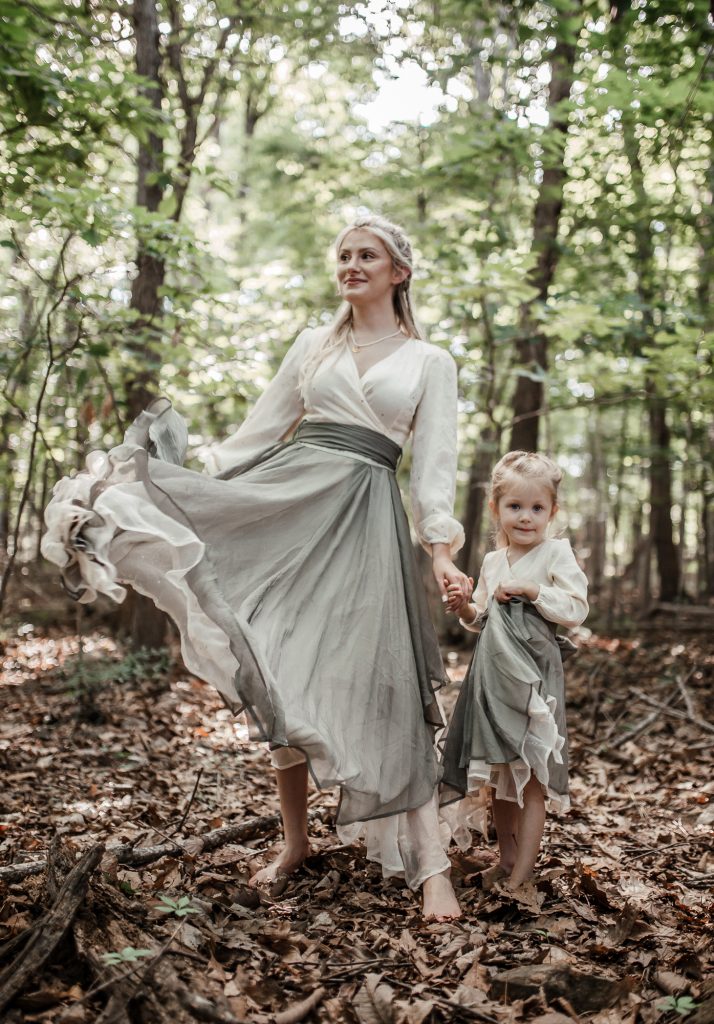 I have an Ellie Nap Dress from Hill House Home and just discovered that they also have matching little girl nap dresses! I am defintitely getting some for the girls!

Best Mommy And Me Athletic Wear: Fabletics and Athleta
Now Athleisure is a mom's best friend. Now there is athletic wear for kids and Athleta has come out with matching mommy and me athleisure outfits! You can find matching mommy and me leggings, sweatshirts, and athletic tops. Mommy and me workouts are also a great way to connect with your child and now you can match too!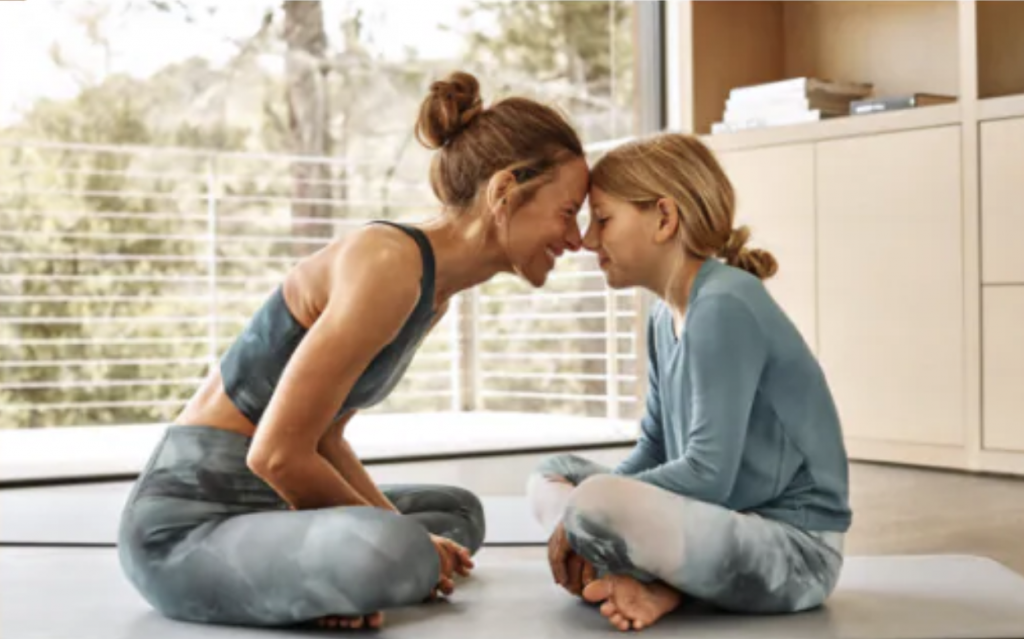 Fabletics Has a couple of mommy and me yoga sets and they come in smaller sizes for toddlers!

Best Mommy And Me Matching Swimsuits: PatPat
PatPat is the most affordable place to buy mommy and me outfits online! The prices are incredibly low and the quality is pretty good for the price. I got the whole family matching swimsuits from PatPat and they loved them!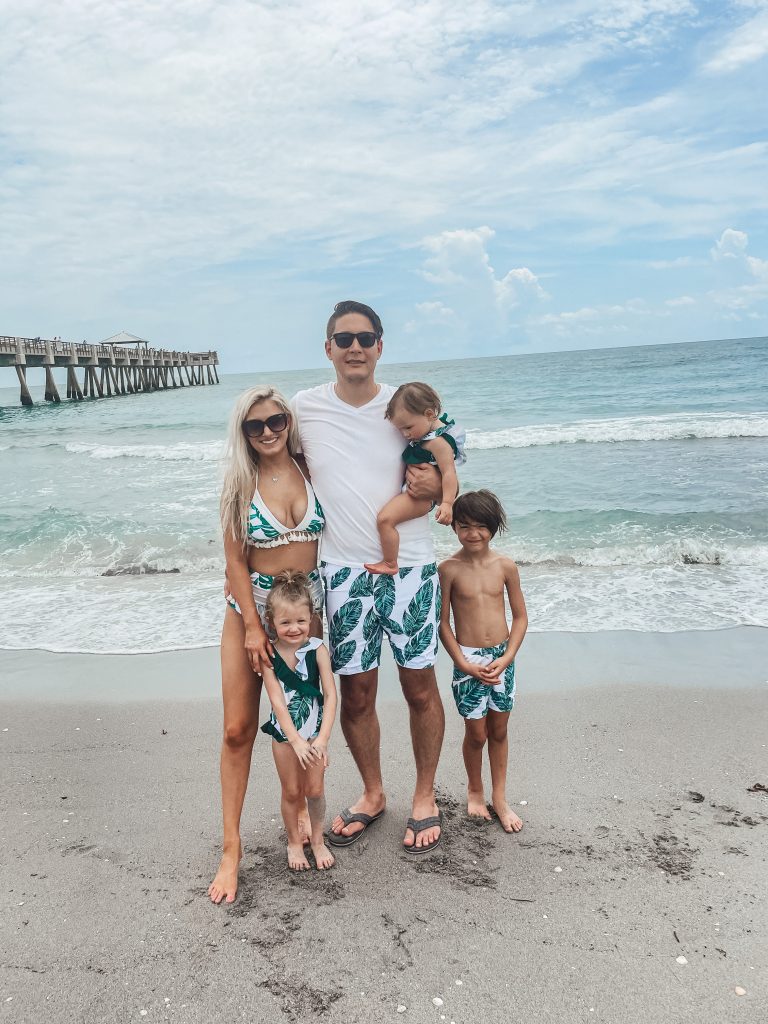 When I think of pretty prints Lilly Pulitzer is immediately what comes to mind. I live around Raleigh NC so I don't see a lot of people wearing it but I always tell Joel I want a house in Florida so I can wear Lilly Pulitzer every day while I'm there. They have adorable matching Mommy and me outfits in your favorite prints!

Best Mommy And Me T-Shirts: Etsy
One of the easiest and most affordable ways to match with your kids is mommy and me t-shirts. You can find them in any style or for any holiday.

Best Mommy And Me Matching Pajamas: Hanna Andersson
Matching family pajamas are always fun! Wether its matching holiday pjs or just a fun family movie night, my kids get so excited when we put on our matching pajamas. Hanna Andersson has the cutest prints for any occasion.

Mommy and Me Matching Jewelry
Another affordable and simple way to match with the kiddos is mommy and me jewelry. Think friendship bracelet but for mother and child. How cute is that?!

Mommy And Me Coats:
During the colder months, you can take your matching outfits even further with mommy and me coats!

Mommy And Me Hats and Hair Accessories
Mommy and me accessories are a fun way to finish off any matching outfit! These cute matching hats and mommy and me headbands are so cute!

Mommy And Me Matching Holiday Outfits
Since the holidays are coming up I wanted to include some mommy and me holiday outfits!

No matter your style, I hope this post helped you find some cute mommy and me outfits for you and your little one!
For cute baby shoes check out these affordable soft sole moccasins!