I love all things matching for my family. Mommy and me swimsuits always pull me in and I get even more excited about matching swimsuits for the whole family. I always get new matching family swimsuits for our family vacations and since summer is in full swing I thought I'd share some of the best matching family swimsuits you can order online!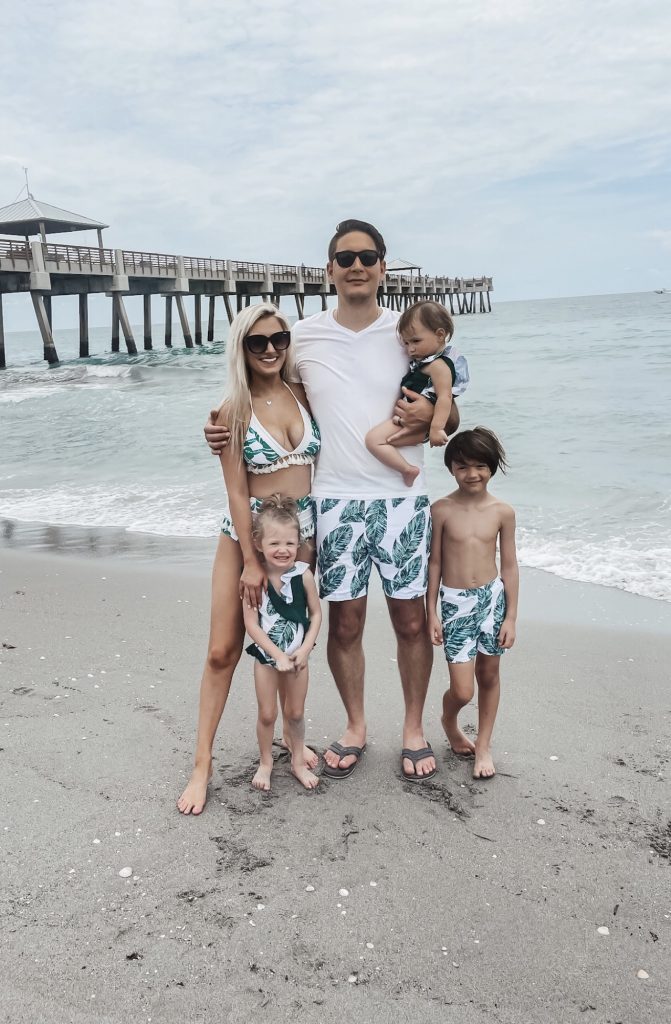 Swimsuits from PatPat and Amazon
First I'm going to share the really affordable and inexpensive stores where you can order matching family swimsuits then we will get on the pricier brands. If you like mommy and me outfits, check out these stores The Best Mommy and Me Outfits Online!
I think way too many people sleep on Old Navy. They have some really cute swimsuits and now they have matching family swimsuits with the cutest prints and patterns.
Walmart is your one-stop-shop for most things. You can get your sunscreen and beach towels and now cute matching swimsuits for the whole family.
PatPat is probably the most affordable place to order matching family swimsuits online. Their prices are so cheap and I have gotten some really cute matching family outfits and swimsuits from them.
We all love Amazon and they have everything. You guessed it, they even have matching family swimsuits!
Now we are moving into so stores that may have more price variation or cost a little more but they are so cute we have to mention them!
I had never heard of this brand until I was looking for stores with matching family swimsuits and I am obsessed! They do not have as many matching family swimsuit options but their kids' swimsuits are really cute and I need to get some for my kids.
Etsy has a lot of cute matching family swimsuits, especially from the shop familySTa!
I did not know that Gap had matching family swimsuits but I checked them out and they are so cute! I love the prints they have.
Every southern mom loves Lilly Pulitzer. It's pricy but the mommy and me swimsuits and outfits are so precious! I've been dying to get matching Lilly outfits for me and the girls but have quite been able to get myself to spend the money.
Mott50 is probably my new favorite swimsuit brand! The prints and patterns they have are stunning and almost all of them have matching family sets!
Vineyard Vines Has the Dad & Lad collection of matching father and son clothing and swimsuits but they also have a mother and daughter matching collection as well!
I hope you find the perfect matching swimsuits for your family!