I don't know about you but I very vividly still remember being a teenage girl. I still got so excited about Christmas/birthdays and gifts and remember the types of gifts I wanted. Heck, a lot of the gifts I wanted as a teenager are gifts I would still want! Now with the internet, it is even easier to find the perfect gifts for teenage girls. However, the teenage years involve so much change that there is so much variation in what teen girls want. Some teenagers are still into certain toys or games while others prefer more mature gifts. I've broken down for you the best gifts for teen girls no matter what their interests are.
Here are gifts for teen girls that they will actually want!
Top Gifts For Teen Girls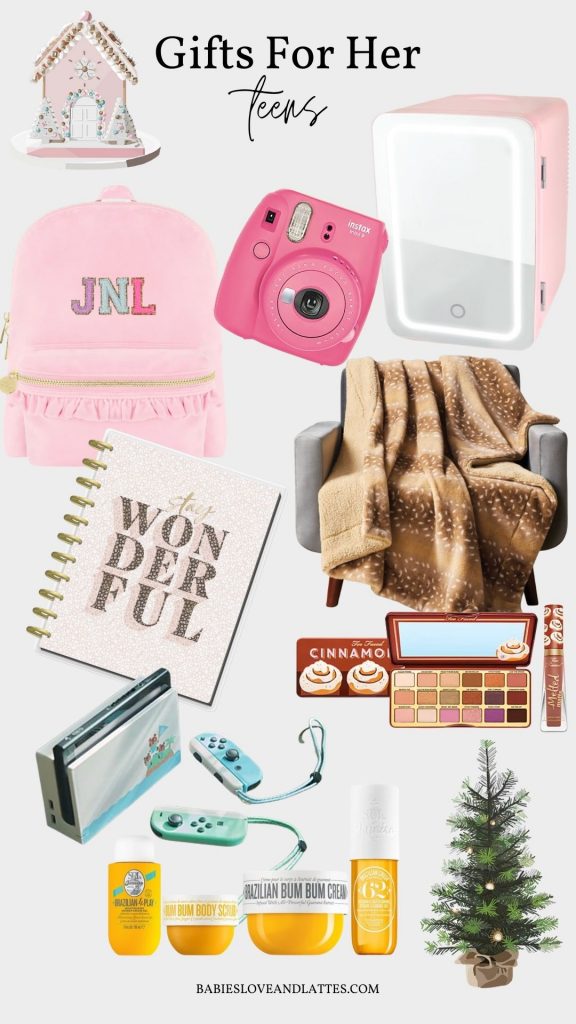 These are some of the overall best gifts for teen girls that I found!
The Stony Clover backpack can be customized with her initials or favorite patches, (I kinda want one for me)! It's fun and cute but is also useful for school.
What teenage girl doesn't love taking pictures with her friends? The Instax minis are come in cute colors and are a fun way to make memories.
If the teen you're shopping for loves skincare then a mini skincare fridge with a mirror on it is an ideal gift. If she doesn't like skincare then she can store her favorite drinks and snacks in her room with it!
A fun new planner is always exciting going into the New Year after Christmas so it's the perfect time to gift a Happy Planner!
I have this fawn animal print throw blanket and it is my favorite! It is so cute and soft and under $20!
Too Face makeup is perfect for young makeup lovers. Their palettes are so fun and cute!
Every teenager and kid I know wants a Nintendo switch so you can't go wrong with that!

Tech Gifts For Teenage Girls
Of course, any teenager wants the latest iPhone or MacBook but here are some other tech gifts for teen girls that you may not have considered.
Stony Clover Gifts For Teen Girls
I already mentioned Stony Clover but I'm going to again because they really are such great gifts for teen girls! The colors are so pretty and the customization options make it really special.

Gifts For Teen Makeup Lovers
Not all teen girls like makeup but I know I sure did and would have loved to have these products. I had to steal my mom's makeup haha so I think most teen girls would appreciate having their own collection.
Gifts For Young Fashionistas
I always spent all of my Christmas and birthday money on clothes when I was younger. The teenage years are a time when teenagers are really learning about themselves and discovering their personal style. Help them try out some cute new styles with these trendy fashion gifts for teen girls.

Gifts For Teenage Girls Who Love Reading
Is the teen you're shopping for a bookworm? These fun reading-themed gifts for book lovers are sure to be a hit! They're also all from Etsy so you're supporting small shops as well!

Room Decor Gifts For Teen Girls
A teenage girl's room is her sanctuary so gift her some decorations to help her achieve her ideal vibe!
I love these LED strip lights because she can put them wherever she wants and change the colors. These light strips also sync with music so they can have their own little rave in their room.
Gifts For Artistic Teen Girls
Teenagers are so creative so I think it's important to encourage that! If your teen girl is into art then get her all the art supplies to help her develop her creative style. This 3D pen is super fun and a great way for her to explore a creative medium she probably hasn't tried before.
No matter what they're into I hope this post helped you find a gift for your teen girls that they will love!
Are you also shopping for teen boys? Check out our gift guide with The Best Gifts For Teenage Boys!